McPherson Carbon
Utilitarian, for the working guitarist, yet masterfully built. An elite instrument in its class.
Want your guitar to sound better than any other? So do we!
Watch this short video to see our history of innovation and first-class craftsmanship.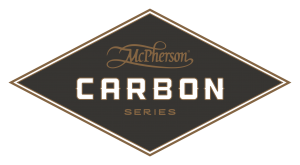 What's so great about carbon fiber guitars?
Carbon fiber guitars are virtually impervious to fluctuations in temperature and humidity:
You could even submerge the guitar in a pool of water without risking the integrity of the guitar itself. This is an incredibly valuable feature for musicians who play in myriad outdoor situations, or for those who travel internationally.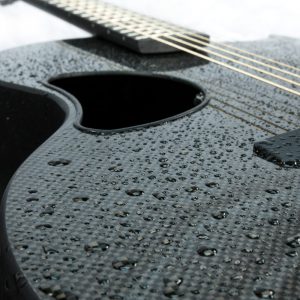 Carbon fiber guitars have more stable intonation:
One of the problems with wood guitars is that without careful upkeep, wood guitars can become warped by fluctuations in temperature and humidity, impacting whether the guitar has proper intonation, and whether the guitar will stay in tune. Some wood guitars will even literally split because the wood has been so compromised by changes in the humidity that the strings tear the guitar apart.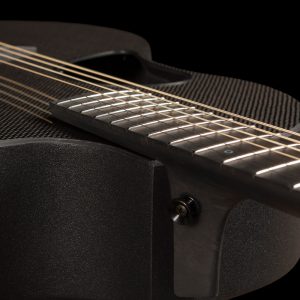 Carbon fiber guitars are made of lightweight, durable material:
Coming in at just over 5 lbs, your McPherson Carbon Sable is a full-sized acoustic guitar perfect for playing by the bonfire, on the beach, or on stage in front of tens of thousands of fans. Because of its durability, the Sable is easy to travel with, so you no longer have to worry about catching flights.
So why doesn't everyone make carbon fiber acoustic guitars?
In many cases, carbon fiber guitars end up sounding "plastic-y." However, due to McPherson's groundbreaking, patented design innovations, McPherson Carbon guitars sound unlike any other carbon guitar on the market.
The Innovations
Offset soundhole:
McPherson labored for decades designing and testing the optimum placement for the guitar soundhole. Because the top of a guitar is the piece that generates sound, and the soundhole is what lets the sound project more effectively, both the placement and the sizing of the hole define the guitar's tonal qualities and expressive range.
Traditional guitar builders place the soundhole in the center of the top of the guitar, literally punching a hole through the most flexible and expressive material.
McPherson has tested and patented the optimum off-set soundhole placement to maximize guitar resonance, tonal depth, and expressive range. That alone makes the McPherson Carbon a stand-out amongst carbon fiber guitars. But it's only the beginning of the innovations.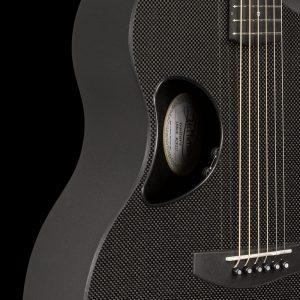 State of the art bracing structure:
The guitar bracing is the skeletal structure on the inside of the guitar. Too much bracing and the guitar refuses to resonate. Too little bracing and you put the guitar at risk of falling apart.
The perfect bracing structure finds the middle ground between strength and flexibility so your guitar can remain stable, yet sound incredible.
McPherson's cutting edge bracing on their Carbon Series does just that by offering stability while minimizing weight, maximizing resonance, and increasing tonal complexity so your guitar sounds warm and full.
Cantilevered neck:
Not only has McPherson innovated the top of the guitar by moving the soundhole to the side, they also cantilevered the neck so that it floats above the top of the guitar.
Most guitar builders glue the neck to the top of the guitar. But doing that once again steals from the guitar's sound quality by eating up more resonant surface area.
McPherson builds the necks of their guitars to float over the top rather than touch the top. And, because the neck is perfectly placed and perfectly rigid, you never have to adjust it, so you spend all your time playing instead of tweaking.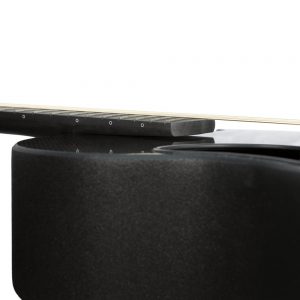 Geo-grid structured neck with a high-modulus carbon fiber rod:
That's fancy talk for, "This guitar neck ain't going to move. Ever." It's important for guitarist's to have faith that, once they set their guitar up, the action and intonation will remain spot-on for the remainder of the guitar's existence.
McPherson has gone above and beyond the call of duty by installing a geo-grid structured carbon fiber neck fitted with a high-modulus carbon fiber rod that's so extremely stiff you can be confident, no matter the pressure, that your guitar neck will stay in place. Period.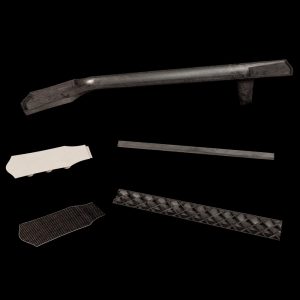 Patented Tru-InTune compensated nut for virtually perfect pitch all the way up the fretboard:
With McPherson's patented Tru-InTune compensated nut, the intonation is adjusted at both ends of the guitar neck, allowing for much better intonation. Set up from the factory, our guitars are easier to play, no matter the style, and give you the ability and confidence to play more expressive, diverse music.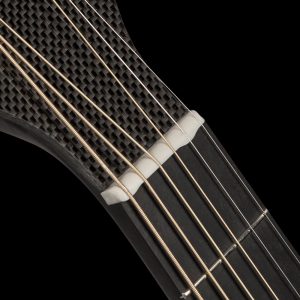 Watch the McPherson Carbon build process below to see just how much care goes into every McPherson Carbon guitar.
Sable Guitar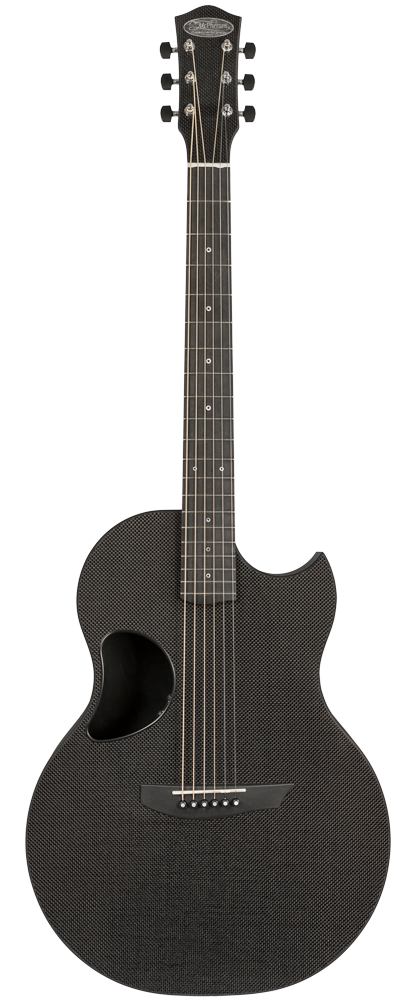 McPherson made waves when they released their first wood guitars. Now they're doing it again with their all-new Carbon Series. Based on the design of their elite custom shop Camrielle, the McPherson Carbon Sable is perfect for flexible musicians working on the road, in the studio, and on stages both big and small. This premium instrument delivers complex, high-end acoustic tone that rivals any wood guitar while raising the bar on durability and reliability.
Includes
Carbon fiber guitar set up with low action saddle
Both medium and low action Tusq® saddles
Carbon Faux hard shell case
Feedback buster
Sample pack of McPherson guitar picks
Specs
5.4 Pounds
25 1/2" Scale
41 3/4" Overall length
10 3/4" Width at upper bout
9.5" Width at waist
15" Width at lower bout
4″ Body depth
14 Frets to the body
20 Frets overall
1 3/4" Nut width
2 3/16" String spacing at bridge
Features
Offset soundhole
Cantilevered neck
Soft V-necked profile
Patented compensated Tusq® nut and saddle
Enclosed hipshot tuners
Nickel fret wire
Elixir Nanoweb Medium gauge strings included, though guitar can be used with other string types
L.R. Baggs 9 Volt Element with Volume and Tone Control (Custom EQ'd for McPherson Carbon Guitars)
Non-adjustable Truss Rod (adjustment is not needed because carbon fiber does not move like wood does)
With so much that sets the McPherson Carbon Sable apart, is there really any question whether it's right for you? Get your very own McPherson Carbon Sable today.